Caring Teams enables professionals, aides, volunteers, patients and caregivers – plus working adults –  to collaborate on   solving each piece of the Wellness Puzzle, as illustrated below.  The content draws from a rich range of videos,  booklets and stories.-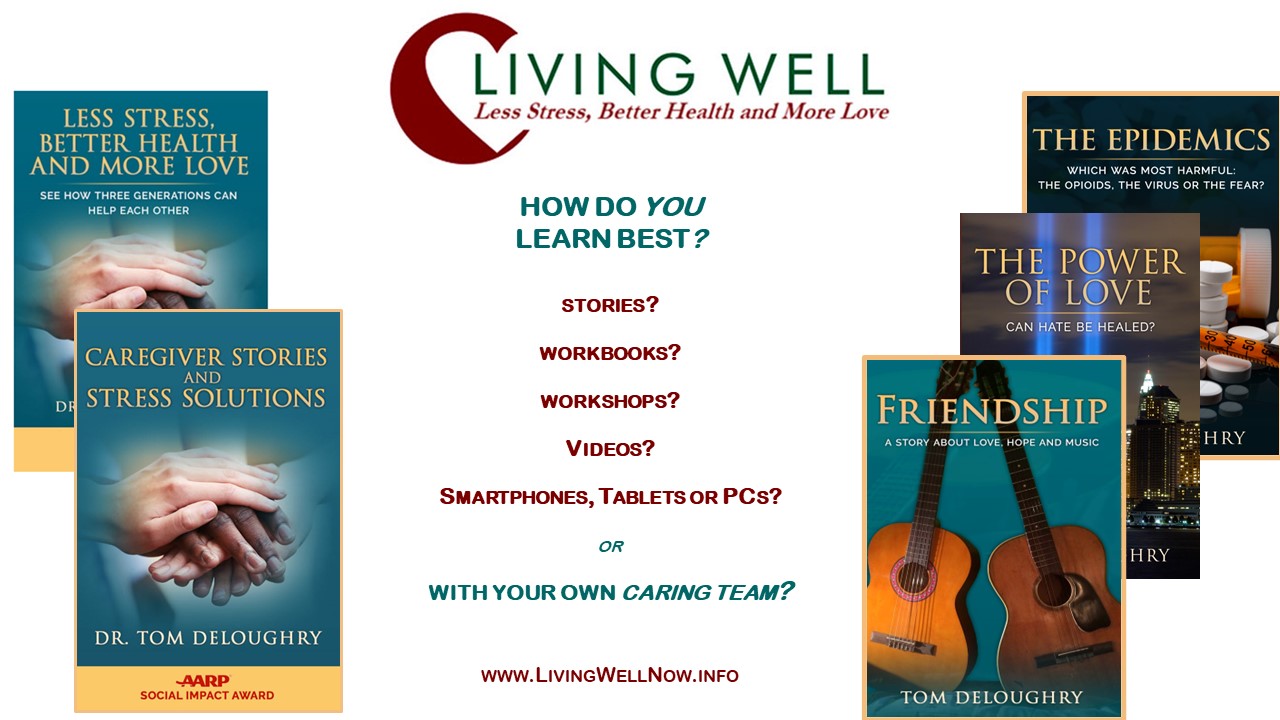 We are currently seeking  non-profit organizations , foundations and worksites who will collaborate with us to improve the wellness of senior, adults and teens, by creating a new  iteration of  the Caring Teams programs that will   be available on smartphones, tablets and PCs.
Mini-grants   ranging from $250 to $1,000   will be available to  community collaborators who would commit to:
having  four  or more of your staff  or members participate in a  four  part training program  that would certify them as "Caring Team Coaches:"   followed by another four sessions that  would certify them to lead online groups as "Caring Team Leaders:
using the simple  steps  in our program manual to launch   the program (through smartphone, tablets and PCs)  to the rest of your staff, your members and your community
participating   in  a   "community collaborative session" to report on their experience and make suggestions for improving this
encouraging participants to complete a confidential pre and post survey so we can measure the impact of this program on improving  physical, emotional and spiritual wellness.
At the bottom of this page, you will find evaluations  of our current program – which was honored by AARP's Social Impact Award as "a simple mind-body-spirit program for seniors, adults and teens of any faith, or no faith" – 
To learn more, please contact: [email protected] 
or visit:   www.LivingWellNow.info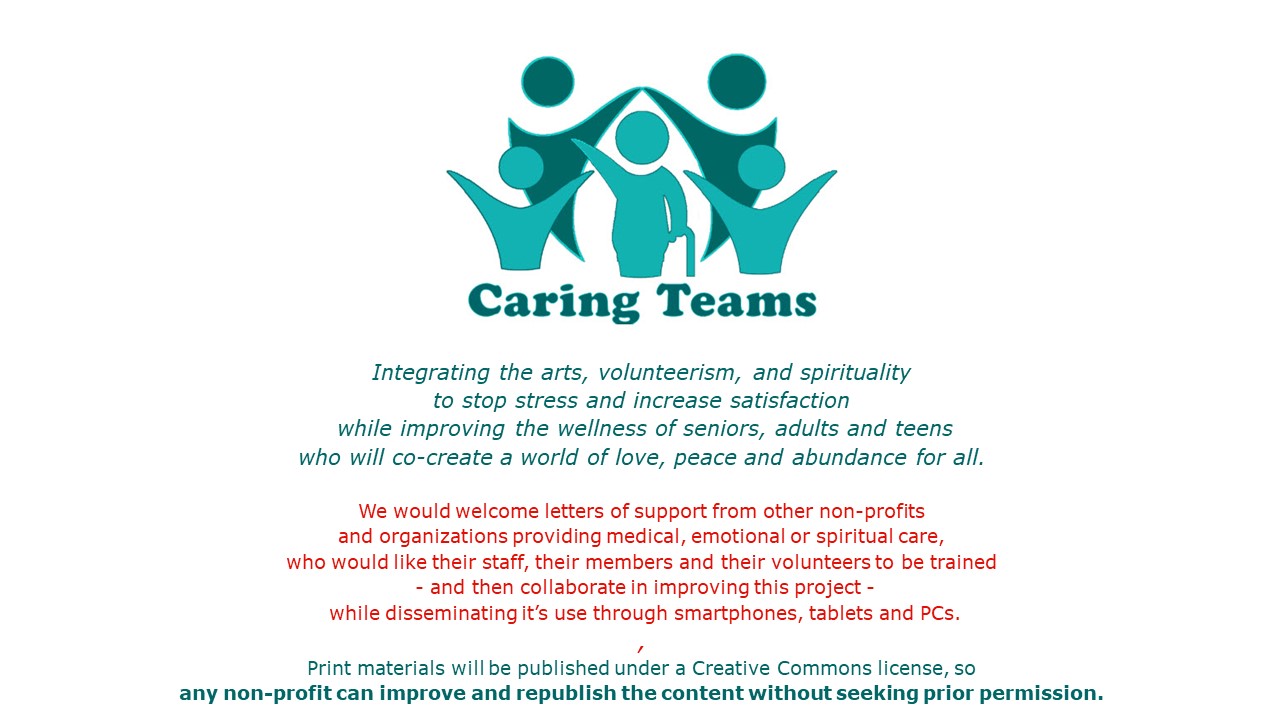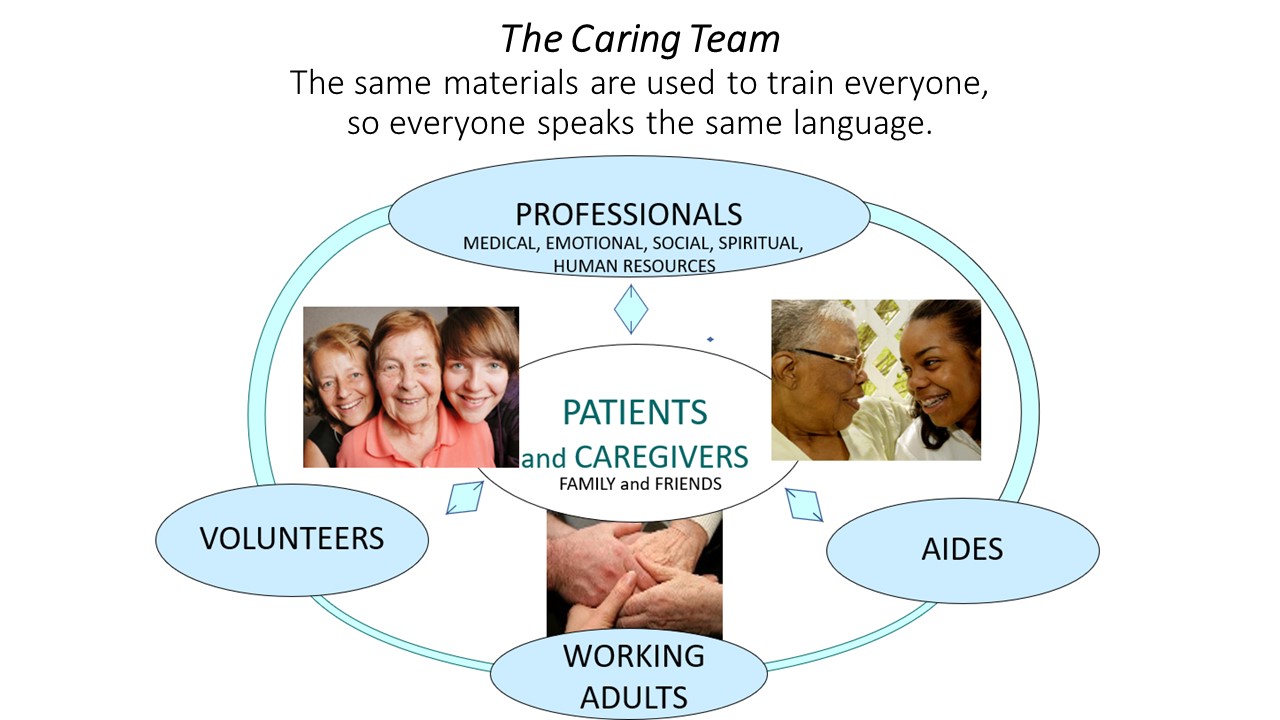 Participants can choose from these topics in   the Less Stress, Better Health and More Love Workbook    or from your  Smartphone, Tablet or PC   beginning in 2023 (assuming that funding is received.)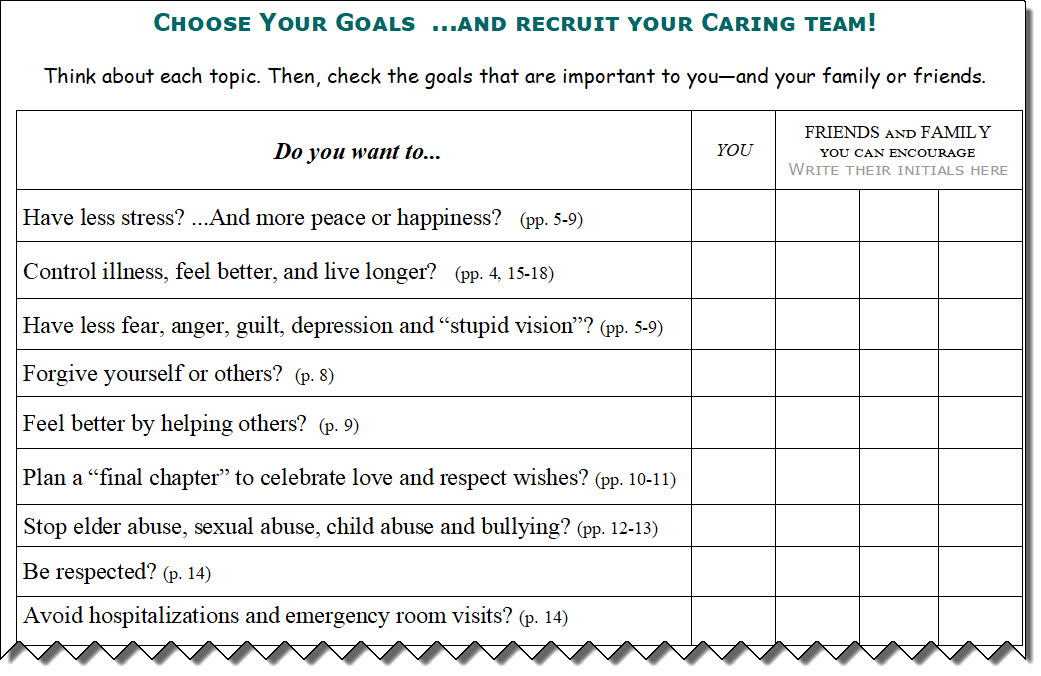 The  core skills that we teach participants are   four Satisfaction Skills...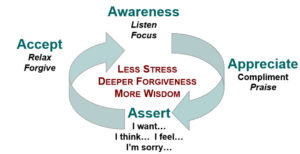 …which can improve communication, reduce stress,  enhance forgiveness , deepen prayer and increase your sensitivity to those whose gender, generation, race, religion, politics or sexual orientation is different than yours.
Plus we teach a   Planning Poem and a Learning Poem that can help anyone solve each piece of his or her Wellness Puzzle.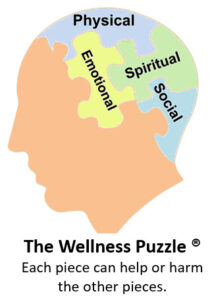 A summary of how the four Satisfaction Skills and the two poems are integrated can be found on the last page of our Less Stress, Better Health and More Love workbook,   and is pictured below.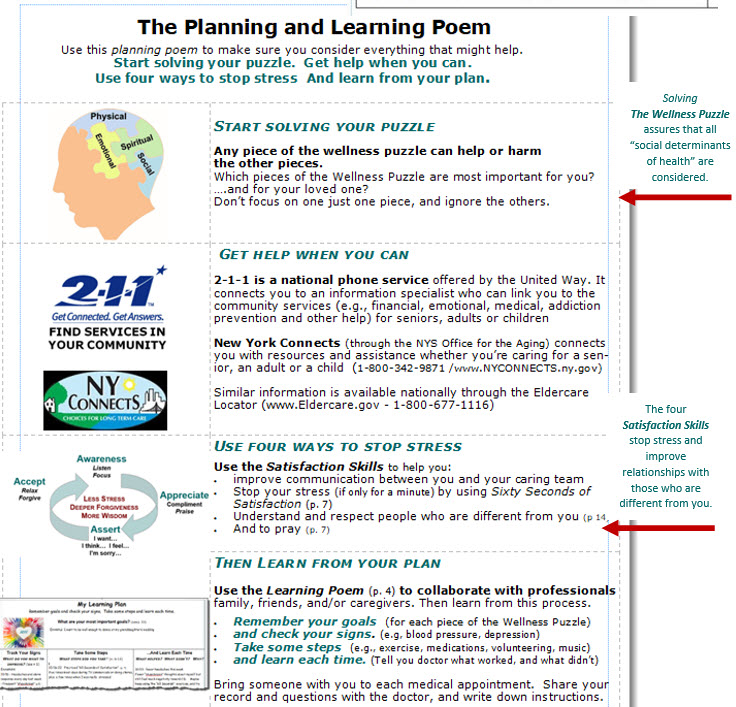 EVALUATIONS
Our  evidence-based programs have been well received  by caregivers, patients, volunteers, aides,  as well as  professionals providing medical, emotional and spiritual care.  (See summaries at the bottom of this page.)
For  our upcoming project,  we aim to  measure improvement  in   emotional health and mental health    as well as increased civic engagement and volunteering among our participants  through self-administered, confidential surveys.   Participants will be invited to complete these surveys (using well-validated items) before they begin   our program and at the completion of our program, as well as a six-month follow-up.
We will use a quasi-experimental design using naturally occurring groups, with participants from organizations on our "wait list" serving as controls.  We will track demographic data  and whether the participant participated  in an in-person workshop or an online workshop that may be either synchronous (i.e., led by a facilitator who breaks the larger group into smaller groups for discussion and reflection) or asynchronous (i.e., each participant  proceeds at his or her own pace without any online interaction with other participants).
Thus, at the conclusion of this three-year project,   in addition to interim reports, we will be able to  assess the relative impacts of  demographics, as well as type and duration of program participation (as well as self-help behaviors including  the  Satisfaction Skills,  prayer and volunteerism ) on the  outcomes  we will measure.
We will also employ interviewers who will  explore  the impact of our program on emotional, social, physical and spiritual factors that cannot be  captured by a survey.
This  summary from participants (who served as volunteers through the Health Association of Niagara County, Inc.    )   was   from an anonymous survey they completed after one 90 minute Less Stress, Better Health and More Love introductory workshop.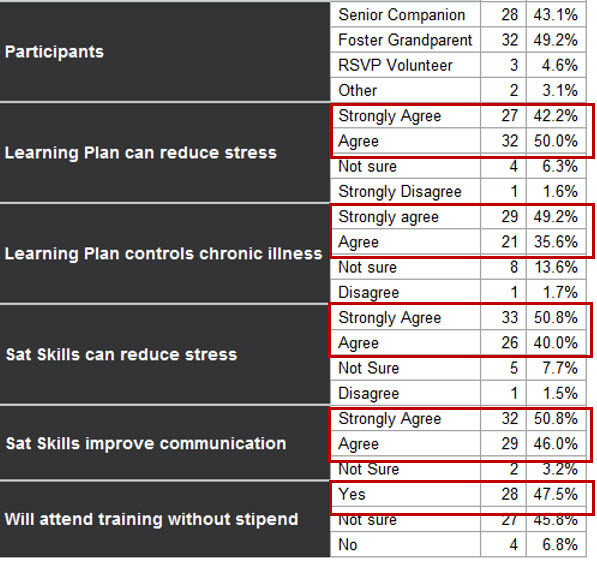 This evaluation  is from 56 participants who attended one two hour introductory workshop,   titled "Forgiving Yourself, Others and God,"  which used the  same Less Stress, Better Health and More Love workbook.  It taught by  Rev.  Brian McCaffrey,  Kathy DeLoughry – my program development and presentation partner – and me.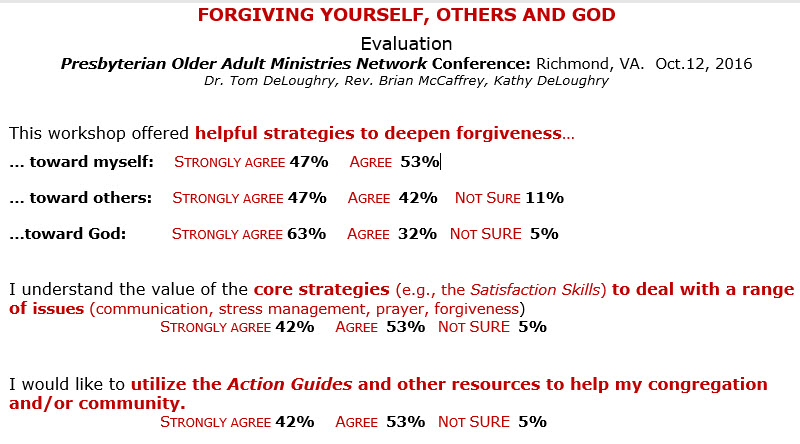 PROFESSIONALS AND AIDES:
After a two-part training sessions for professionals (e.g., nurses, social workers) at  the Health Association we asked participants if the skills learned through our "Less Stress, Better Health and More Love" booklet effectively addressed both emotional and medical problems:
91% agreed that the Satisfaction Skills (awareness, affirmations, assertiveness and acceptance( could reduce stress
96% agreed the Satisfaction Skills skills could improve communication
92% agreed that the "Learning Plan" (remember goals and check your signs. Take some steps and learn each time) could reduce stress
85% agreed that this Learning Plan could also control chronic illness