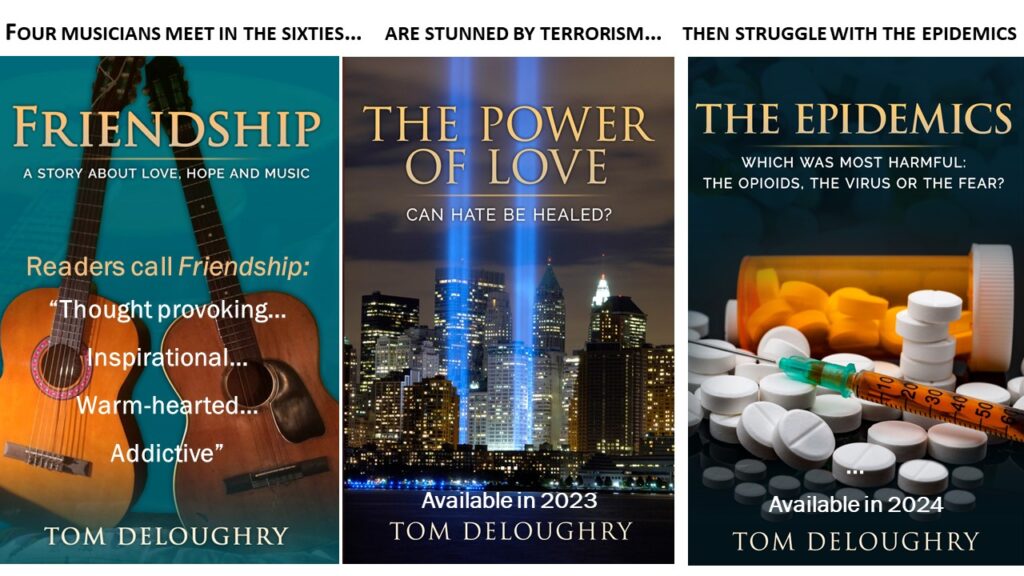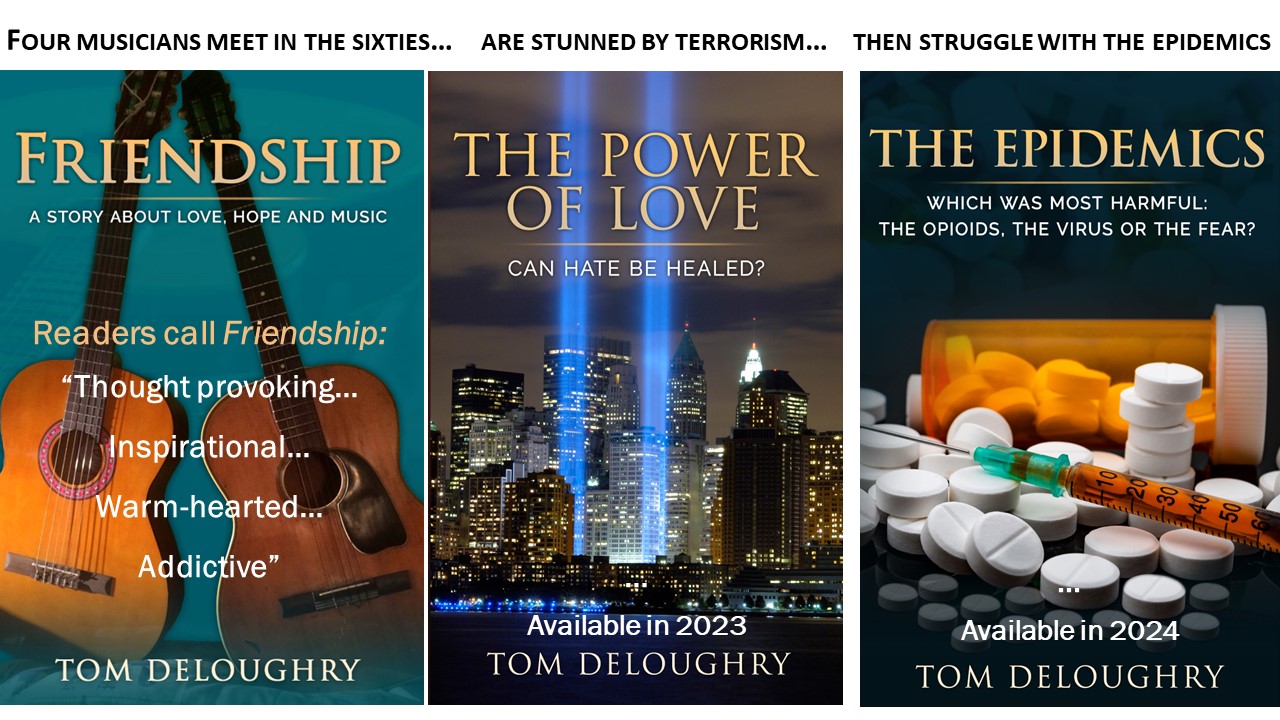 Music and art are used to convey emotion – and deepen the readers' understanding of each character – throughout the Friendship Trilogy stories.  These three novels are a fictionalized account of how Tom and Kathy learned how to use music and mindfulness to help themselves and others.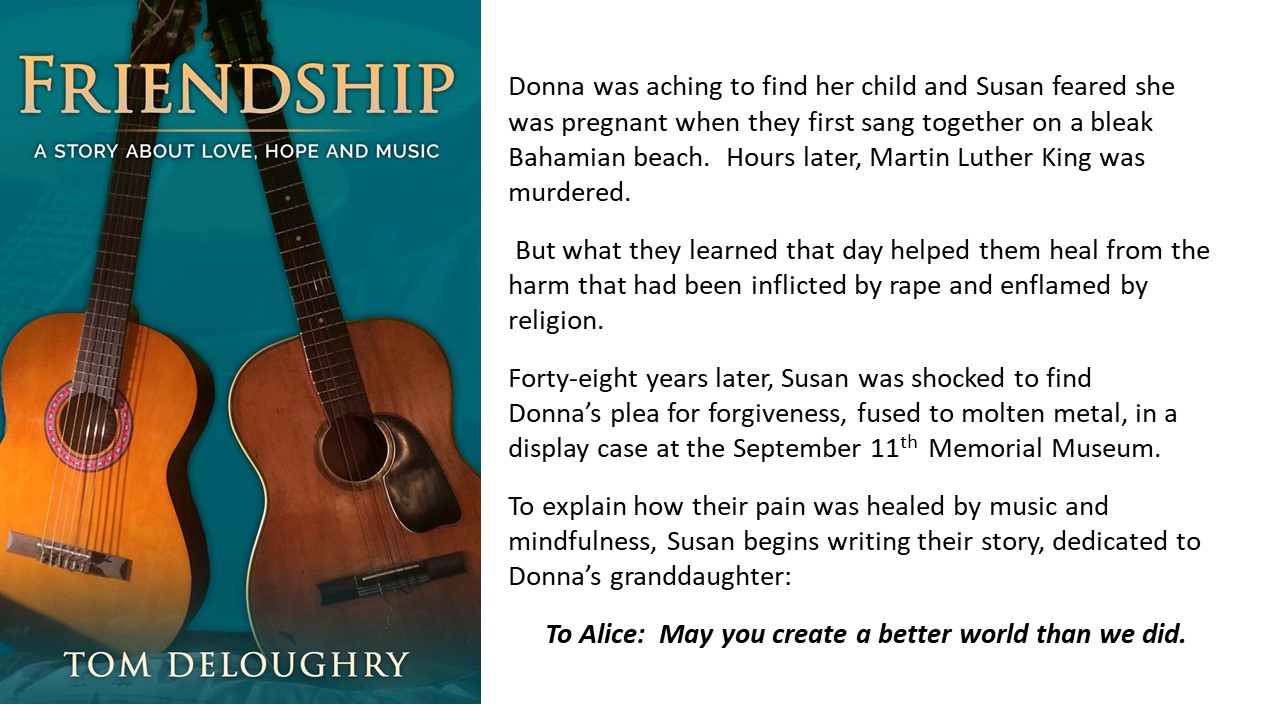 But in a real story, the story of your life, music  is a tool you can use  to help yourself.
Music is suggested as a "mindfulness" tool in the Less Stress, Better Health and More Love workshops.    You, or anyone,  can use vocal or instrumental music as a short-term strategy to deal with (or prevent) anger, depression or fear.  It is also a powerful strategy to deepen prayer.
Friendship is the name of the group that Donna, Susan, Ed and Paul form near the beginning of the Trilogy.   Music is part of how they reveal  themselves and seduce each other.
In the first two novels (Friendship and The Power of Love) Susan, Donna and Paul – plus Ed to a lesser degree –  use music as a way to bolster energy and renew hope.
In the third novel, The Epidemics, Donna's granddaughter, Alice, becomes a communications department staffer in  the White House.  Before the mid-term elections, she collaborates with Paul and Susan to develop a national public health proposal that uses music to reduce fear – which they (and I) think is the most harmful epidemic.
***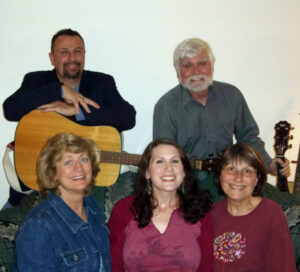 For nearly forty years, my wife, Kathy, and I played in a group very similar to Friendship.  For the last twenty years, we were joined by our daughter, Mary.  Pictured (to the right) in the back are Joe Tumino and Tom DeLoughry.  In front are Kathy DeLoughry, Mary DeLoughry Bieger and Nan Hoffman.
Please listen to our Amazon or Spotify playlist to hear some songs that Friendship perform… or that they use to romance each other.  And scroll towards the bottom of this page to hear one of two original songs, "World without Walls" that summarizes a major theme of The Friendship Trilogy.
SPOILER ALERT – Although anyone can enjoy the playlist,   the following summary is intended for agents, publishers and critics.  If  you plan to read this novel for entertainment, it will give away some of the plot.
Our partial play list includes:
The First Time Ever I Saw Your Face  –  Susan's guilt about betraying her boyfriend begins to ebb when she tells David about her unwanted pregnancy.   She is relieved by David's response, a wonderous look of love and acceptance, like in the lyrics: "I thought the sun rose in your eyes. And the moon and the stars were the gifts you gave to the dark and endless skies, my love."   However, Susan doesn't tell David that she fears he may not be the father.

Years later,  that healing moment is twisted during a horrible nightmare in which Susan witnesses David's death in Vietnam…
I'm in a jungle. Gunfire everywhere.  Running. Sweating.
There's David!  David!!  Twenty feet away. Crouched in a ditch, one bloody hand clutching his rifle.   Waving at me to get down.  Eyes wide in his muddy face.
Explosions. I'm hunched, running. Twelve feet.   Screaming. "David!" Slipping. Crawling through the gunfire.  Six feet. "David!!"
He orders his men, "Cease fire! Cease fire!" Yelling louder, "Stop the fighting!  STOP IT!!"   He rises towards me, blasts blurring his words. 
Then lightning, freezing us in brilliant silence. He's smiling at me, happy, like when I told him I was pregnant. His filthy face beaming at me, blissful.  …like I was giving him the moon and the stars. 
I woke up, screaming.
Shed a Little Light by James Taylor  – This song, performed by Friendship at their "9/11  Commemorative Concert" in 2016, recounts their devotion to  Martin Luther King's message "that there are ties between us, all men and women living on the Earth,  ties of hope and love, sister- and brotherhood." 
Because All Men Are Brothers – Susan starts learning this lesson in 1968 when it is sung by children at an impoverished mission school while she and Donna are on a tour to see "the real Bahamas."  But the hope of that message is challenged that evening when a grief-stricken young couple tell her that Martin Luther King has just been killed.  The boy quotes bittersweet passages from Dr. King's "Letter from a Birmingham Jail."  He had learned them from the older brother he idolized, a Freedom Rider who was jailed in Birmingham.  Afterward, his brother had been drafted to serve as a medic in Vietnam where he "stepped on a land mind and was blown to bits."   Susan wonders, "Is hope nothing more than bullshit wrapped around a catchy tune?"
Brave – This song by Sara Bareillis reinforces that assertiveness is as important as is mindfulness and gratitude when seeking satisfaction.   Donna and Susan are introduced to all of these skills while learning about "total vision" in the Bahamas. Friendship performs this song in their 2016 concert to underscore the importance of assertiveness as well as to introduce the message: 'the time is   now' for justice and equality, referencing the teachings by Sister Joan Chittister – and foreshadowing  the impact of Sister Joan on Susan towards the end of the first novel.   In the third novel, "The Epidemics," Donna's granddaughter, Alice, draws strength from this song when she is crushed by conflict, while serving as a communication staff in Joe Biden's White House.
Holy Now – Donna says, "This song contains all the theology I need," before singing it with Friendship at at her ordination party in 1986.  The lines…
Wine from water is not so small, but an even better magic trick is that anything is here at all.
So the challenging thing becomes,  not to look for miracles, but finding where there isn't one.
Everything, everything's a miracle.
       …reflect Donna's evolving view that the Spirit flows through everything, whether you call It Christ, Allah, Brahma, Gaia or Mother Nature.   Friendship also played this song at a "Death and Dying" conference led by Dr.  Elisabeth Kubla-Ross (our real life experience as volunteers for Life and Death Transitions)  to demonstrate how music could connect you to the Love that always surrounds you, whether you've experienced a death, a divorce or some other loss.
The Bravest   This song by Tom Paxton, sung at Friendship's 2016 concert,  is a tribute to the heroes of 9/11. The lyrics are written from the perspective of someone who escaped from the World Trade Center, where over 2.600 people perished:
"Now every time I try to sleep, I'm haunted by the sound
Of firemen pounding up the stairs, while we were running down."
Chelsea Morning by Joni Mitchell, Rolling Home by Peter, Paul and Mary, Evergreen by Barbara Striesand, Danny's Song by Loggins & Messina  and Play Me by Neil Diamond are the songs that Susan and Ed sing to seduce each other while performing as a duo in the mountain town of Ellicottville after the Buffalo Blizzard of '77.  The next night they return to the Silver Fox Tavern to celebrate the beginning of their love affair by dancing to: Uncle John's Band by the Grateful Dead,  Listen to the Music by the Doobie Brothers, Peaceful Easy Feeling by the Eagles and Chicago's Make Me Smile.
Albinoni's Adagio in G Minor  In book three, The Epidemics, a teen-age girl is arrested in 2020 while buying opioids for Asja, her addicted grandmother, who had been a cellist with the Sarajevo symphony.  She immigrated from Bosnia to America in 1994, after witnessing the courage of her colleague, Vendran Smailovi, the Cellist of Sarajevo. His music mourned the loss of nearly five thousand Muslims in this genocidal siege, including a single blast that killed twenty-two civilians waiting in line for food.  The Cellist honored them by performing Albinoni's Adagio in G Minor for twenty-two days in the ruins of a marketplace, within sight of Christian guns that had killed them.  https://en.wikipedia.org/wiki/Vedran_Smailovi%C4%87 )  Perversely, this Adagio had been reconstructed from fragments of a musical manuscript found in the ashes after the Allies firebombed of Dresden, killing over 25,000 Germans in the Second World War.

Asja, Susan and the rest of Friendship perform this song in their 2016 concert, adding lyrics co-written by Asja and Susan.
"World without Walls" (scroll down now to hear it and read the lyrics) is performed by Friendship during their 9/11 Commemorative Concert to summarize the hope we can  "learn how to see the human race in every face with the love God gives us all"
The song lyrics are also referenced in Donna's final thoughts as she dies during the terror attack at the World Trade Center.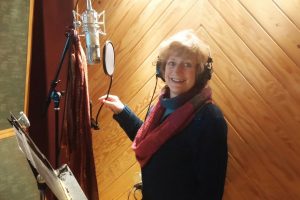 World without Walls was written and recorded by Mike Bell in a Nashville studio in 2015, with his sister, Kathy Bell DeLoughry, singing harmonies.  Kathy and I formed a folk music duo after we married and continued performing in a group – similar to the novel's Friendship – for nearly forty years.
Mike Bell served as the Curator of Popular Culture at the Tennessee State Museum in Nashville, Tennessee for many years.  He was also a staff songwriter for the Scarlet Moon Publishing Company.
Later, he wrote his song, "World Without Walls," after being profoundly moved hearing the stories of his friend Joe O'Donnell, a World War II Marine photographer who had to photo-document the devastation of Hiroshima after the atom bomb was dropped. Years later O'Donnell became a dedicated peace advocate.
Bell said, "I had the title for about a year, and after talking with Joe in 1994 I had the song written in a few days. He loved it and later played it for the Mayor of Hiroshima in the spirit of healing when he visited there with an exhibit of his photos. The song is really my prayer for peace–tearing down the invisible walls of prejudice and hatred, and highlighting greed, another root cause of war."
.  Click here to listen to the entire song.
World Without Walls
Words and Music by Mike Bell, Copyright 1994
When a man brings up his kids
To hate the same people that his father did
He builds up a wall that we can't see
And it cuts off the road to their humanity
Let's show the children a better way
How great this earth of ours could be someday
If we could live in a
World without walls and learn how to see
The human race in every face with the love God gives us all
If we could tear all the fences down and just give a little ground
There'd be nothing left to hide from in a World without walls
We fill up our houses they're cluttered with stuff
We could be billionaires and still not have enough
When all it could take to make life worthwhile
Is giving each other a reason to smile
And though it sounds like a fantasy
I'm not the only one who still believes
We can live in a
World without walls and learn how to see
The human race in every face with the love God gives us all
If we could tear all the fences down and just give a little ground
There'd be nothing left to hide from in a World without walls
There's room for us all in a world without walls
Bell continued, "I wrote the second verse in 2005, replacing the one that referred to the bomb, wanting to make the song more universal and not add to the controversy whether or not we should have used a nuclear weapon."
Original 2nd verse:
'I met a man, used to be a Marine who had to take pictures of the battles he'd seen
At Hiroshima, after the bomb, he couldn't believe all the people were gone
Ever since that moment changed his life
He's prays we'll keep the dream of peace alive
That we can live in a
World without walls and learn how to see
See the human race in every face with the love God gives us all….'
Bell added, "I've sung this song in black and white churches around Nashville, and also at a Martin Luther King Jr. memorial service, in the hope that its message might make a difference, however small, in the way we look at our inherited beliefs.
Mike can be reached at [email protected],